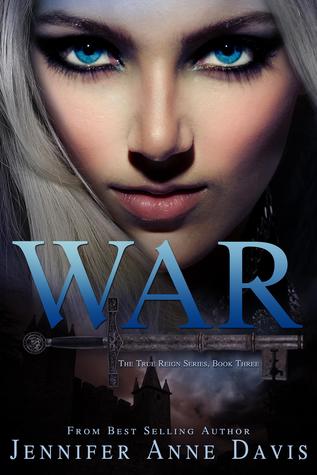 Title
: War
Author: Jennifer Anne Davis
Series: True Reign #3 (last)
Genre: Medieval, Romance, YA, Historical Fiction, Fantasy, Swords
Source: Kindle
Pages: 252 pages
Rating: 4 stars
Available at:
Blurb: (via Goodreads)
When Rema chose to be crowned queen and join the rebel forces, she knew she'd face the fight of her life. What she didn't expect was to be kidnapped by an Emperion assassin and taken to the mainland to be executed in front of the emperor. How can she save Greenwood Island if she can't even save herself?

Darmik knows he doesn't have much time to rescue Rema. He's denounced his position as Commander and Prince in order to join the rebels. But now he must rely on his family name in order to go before the Emperor—his uncle—and beg for Rema's life.

If Rema and Darmik have any hope of being together and saving their kingdom, they must survive the greatest threat of all—Emperion.

This is the heart-pounding conclusion to The True Reign Series.
My Review:
I have reviewed the first two books of this trilogy. The first book is The Key, which you can read HERE, and the second is Red, which you can read HERE. I will have a few spoilers in this review, but I will warn you before you can read them.
So first and foremost, if you have gotten this far in the series that means you know the worst part of the first two books… THE CLIFFHANGERS! As soon as I finished Red, I had to start War right away. It was already 10pm, and I was tired, and I had to get up early, but I read it anyway because the cliffhanger just draws you back in. I am happy that the end of the third book didn't have some twist and end in a cliffhanger… thank the Book Gods for this being the last in the series! I don't think my sleep schedule could have taken it.
Another love: Nathenek (AKA "Captain"). Every time there was an interaction between him and Rema, I was grinning like and idiot. They were by far my favorite parts of the book. I don't know if I loved him because he was kind of a badass, or because he actually had a sense of honor, or what. What I DO know is that I wanted Rema to throw Darmik out the window and fall into Nathenek's arms so they could live happily ever after.
SPOILER:
I was thoroughly disappointed when it didn't happen (not that I thought it really would… there was too much foundation between Rema and Darmik to just throw it all out the window… But still!!) I kind of hope to see a spin off series that has Nathenek as the main character; I would love to see the world from his eyes.
BIT OF A SPOILER HERE
: Another think I enjoyed was seeing Darmik and Rema together again. As much as I love Nathenek, Darmik has earned my trust at this point and I wanted Rema to get the happily ever after she deserved. I like how accepting Darmik was of Rema's new status. He didn't want either of the crowns for himself, although he could have fought for them. I expected more of an inner conflict about all this new information that was thrown at him concerning Rema, but he didn't even flinch. In the end, all of the tiny things that made Darmik Darmik made me accept him as Rema's
True Love
once and for all…
Sorry Nathenek!
As a side note, I also loved the fact that Darmik was the Emperor's illegitimate son. It explained so much; mainly why he was treated like crap going up by the man he THOUGHT was his father. It was a interesting and unexpected twist.
Now for some of the things I didn't love so much. The biggest issue I had with this conclusion to the trilogy was that it was very rushed. It definitely could have used at least 50-100 extra pages. Additionally, while changing perspectives from Darmik and Rema, I think the timeline gets a little muddled up… and if it doesn't, then I was definitely just confused. I had to go back and reread to make sure I understood certain things correctly. Lastly, most of the story takes place in the sandy empire, rather than their home country. I wanted to see more of the civil war between the tyrant and the rebels! I wanted to see Darmik fight his brother and father more. I wanted Darmik to confront his father about how he treated him all this time. We see a bit of it at the end, but it was very rushed.
In comparison, the pros outweigh the cons by far. The cons that do exist are mostly nit-picky things that are based on personal preference. The ending to this trilogy left me pleased and content with the story that spanned over three books. The only wish I have is that we got to see more of Nathenek from the start. I would have liked to see his development throughout the books. Maybe we will get to see a spin off series with him… CROSSING MY FINGERS! This was a great job by Jennifer Anne Davis. I suggest it to all those who love Romance, YA, Historical Fiction, Medieval Fantasy, and Swords.